Dear Aubrey,
Thank you for your message.  Please add my name to the list.
I support the Contraction and Convergence submission from GCI to the UNFCCC to promote climate justice in a practical, sensible, clearly-articulated way.
I have supported Contraction and Convergence in the publications:
"Sustaining a Healthy Future" (2008) (Faculty of Public Health) and
"The Health Practitioner's Guide to Climate Change" (Earthscan, 2009 - see p 89), for which I was lead editor.
Best regards
Jenny
Jenny Griffiths OBE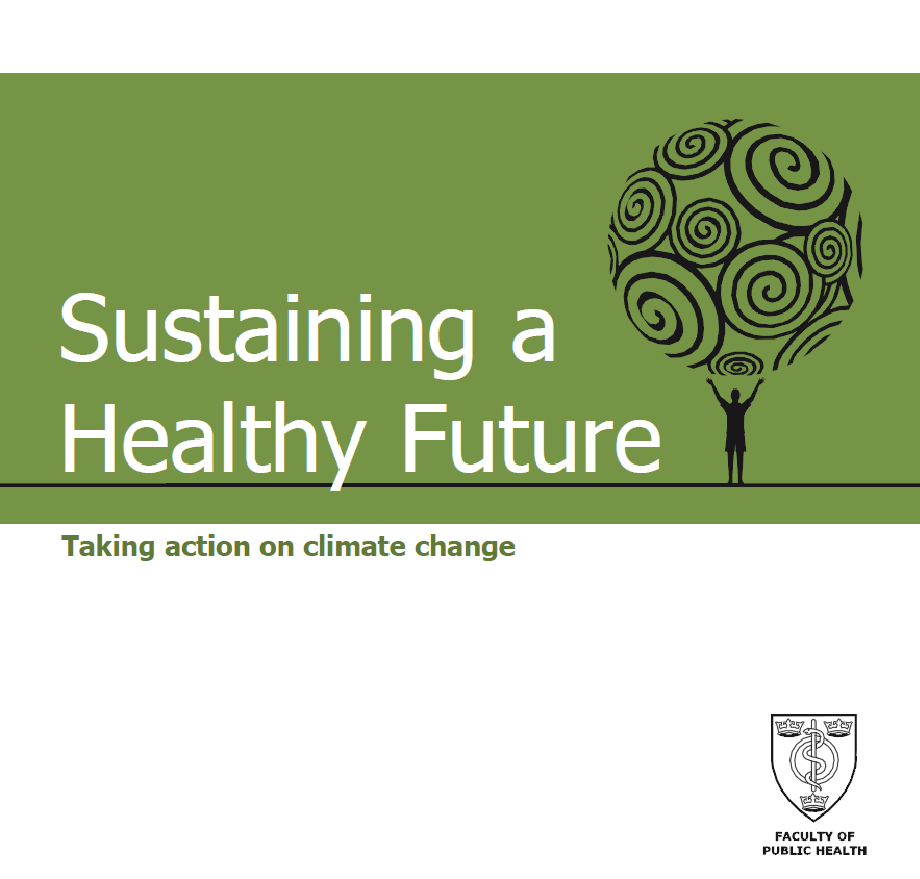 Contraction and convergence
Contraction and convergence is a global framework – not yet adopted by the UK government – for tackling climate change through the equitable allocation of carbon rations. The 'contraction' component entails setting a global carbon budget, reducing or 'capping' this annually to an agreed level so that the planet's climate once again gains equilibrium. 'Convergence' entails giving an equal entitlement of the capped carbon to each of the four billion or so adult inhabitants of the globe. The disadvantaged – generally low carbon emitters – will have entitlements which would allow for economic and social development or which they could sell to high carbon emitters ie. richer, developed countries. The framework implies both carbon rationing and carbon trading. Contraction and convergence is viewed by many as central to discussions on tackling climate change and sustainable development because of its focus on equity - see
Sustaining a Healthy Future - Taking Action on Climate Change
This publication has been endorsed by:
Association of Directors of Public Health
British Trust for Conservation Volunteers
Chartered Institute of Environmental Health
Climate & Health Council
Commission for Architecture and the Built Environment
Institute of Public Health in Ireland
Local Government Association
Neil McKay, Chief Executive, NHS East of England
National Heart Forum
NHS Confederation
Royal College of Physicians of Edinburgh
Royal College of Physicians of London
Royal Institute of Public Health
Royal Society of Health
Scottish Healthy Environment Network Steering Group
Sustain
Sustainable Development Commission
Sustrans
UK Public Health Association
Produced in consultation with the Carbon Trust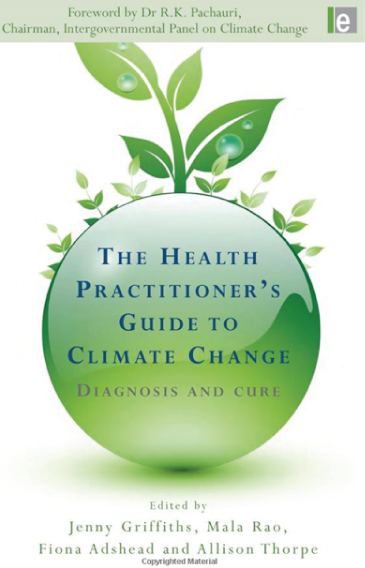 "Preventing runaway climate change is essential for a healthy and sustainable future. However, the economic and social policies that will need to be implemented in order to reduce greenhouse gas emissions will also bring substantial health improvements. Specifically, they could bring important reductions in inequalities in health, heart disease, cancer, obesity, diabetes, road deaths and injuries and urban air pollution. These health benefits arise for three reasons: 1 Because Contraction and Convergence, which is the fairest, most clearly articulated and most widely supported global framework for reducing greenhouse gas emissions, has justice and equity at its core and injustice and inequality are major determinants of human suffering and sickness (Global Commons Institute, 2008). 2 Because climate change policies will impact in a health-promoting way on two of the most important determinants of health: human nutrition and human movement 3 Because climate change policy has to include population policy and the promotion of family planning has huge potential to improve global health (Cleland et al. 2006)."
The Health Practitioner's Guide to Climate Change
Jenny Griffiths (Editor), Mala Rao (Editor), Fiona Adshead (Editor), Allison Thorpe (Editor)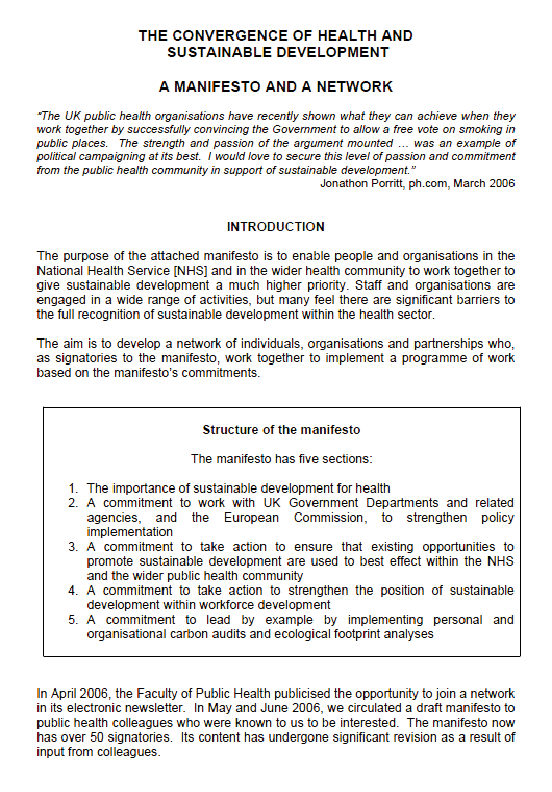 Action to reduce substantially carbon emissions in a way that is fair and equitable for all countries around the globe see Global Commons Institute's policy of Contraction and Convergence, which is a carbon cap and trade policy designed to reduce CO2 emissions.
THE CONVERGENCE OF HEALTH AND SUSTAINABLE DEVELOPMENT
A MANIFESTO AND A NETWORK
SIGNATORIES
Faculty of Public Health of the Royal Colleges of Physicians of the United Kingdom
Scottish Environmental Protection Agency
UK Public Health Association
Sheila Adam, Interim Regional Director of Public Health, NHS London
Edwina Affie, Public Health Consultant
John Ashton, title to be confirmed
Ian Baker, Hon. Reader in Public Health, University of Bristol
Geoff Barnes, Health Policy Adviser, Sustainable Development Commission
Ian Basnett, Assistant Director of Public Health, North East London Strategic Health Authority
Chris Bentley, Director of Public Health & Clinical Engagement, South Yorkshire Strategic Health Authority
Graham Bickler, Regional Director , South East Health Protection Agency
Chris Birt, Consultant / Honorary Senior Lecturer in Public Health, Central Liverpool PCT
Leslie Boydell, Consultant in Public Health Medicine, Institute of Public Health in Ireland
Nick Cavill, Cavill Associates
Sir Ken Collins, Chairman, Scottish Environment Protection Agency
Anna Coote, Public health specialist
Fiona Crawford, Public Health Programme Manager, Glasgow Centre for Population Health
Andrew Furber, Honorary Senior Clinical Lecturer/ Consultant in Public Health Medicine, South East Sheffield PCT
Campbell Gemmell, Chief Executive, Scottish Environment Protection Agency
Mike Gill, Visiting Professor in Public Health, University of Surrey
Sir Muir Gray, Director of Clinical Knowledge, Process and Safety, NHS Connecting for Health
Jenny Griffiths, independent consultant
Rod Griffiths, President, Faculty of Public Health
Siân Griffiths, Director, School of Public Health, The Chinese University of Hong Kong
Sir Andy Haines, Professor, London School of Hygiene and Tropical Medicine
Neil Hamlet, Consultant in Public Health Medicine, NHS Fife
John Harvey, Director of Public Health, Havering PCT
Tony Hedley, Chair Professor in Community Medicine, Department of Community Medicine, School of Public Health, The University of Hong Kong
Alison Hill, Director, South East Public Health Observatory
Linda Hillman, Consultant in Public Health and Dental Public Health, Norfolk Public Health Network.
Phil Insall, Director, Active Travel, Sustrans
Lizi Irvine, Senior Lecturer, Napier University, Edinburgh
Julie Hotchkiss, Director of Public Health, Ashton,Leigh & Wigan Primary Care Trust
Richard Jarvis, Consultant in Health Protection, Cheshire & Merseyside
Jack Jeffery, Immediate Past Chairman of the Royal Institute of Public Health and Director, Durham County Waste Management Ltd.
Alyson Learmonth, Director of Public Health and Health Improvement, Sedgefield PCT
Giovanni Leonardi, Consultant in Environmental Epidemiology, Health Protection Agency, Centre for Radiation, Chemical, and Environmental Hazards
Carolyn Lester, Lead for Health Inequalities & Equity, National Public Health Service for Wales
Ann McCarthy, Senior Lecturer, Division of Criminology, Public Health & Policy Studies, School of Social Sciences, The Nottingham Trent University
John Middleton, Director of Public Health, Sandwell
David Miles, Director of Public Health, West of Cornwall Primary Care Trust
Ruairidh Milne, Clinical Senior Lecturer, School of Medicine, University of Southampton
George Morris, Professor, Senior Medical Officer, Scottish Executive,
Maggi Morris Director of Public Health, Preston Primary Care Trust
Aldo Mussi, Snr Lecturer in Health Development, Faculty of Health, University of Central England
David Ogilvie, MRC fellow, MRC Social and Public Health Sciences Unit, Glasgow
Lindley Owen, Director, Mobilise! Project, Manager Sustrans Cornwall & Plymouth
David Pencheon, Director, Eastern Region Public Health Observatory
Cathy Read, Consultant in Public Health Medicine, Barnsley Primary Care Trust
Paul Redgrave, Director of Public Health, Barnsley Primary Care Trust
Sue Roaf, Councillor Professor, Oxford Brookes University
Ian Roberts, Professor of Epidemiology and Public Health, London School of Hygiene and Tropical Medicine
Helen Ross, Public Health Development Manager, Greater Nottingham Health and Environment Partnership,
Harry Rutter, Deputy Director, South East Public Health Observatory
Paul Scourfield, Chief Executive, Faculty of Public Heatlh
Jackie Spiby, Consultant in Public Health, North East London Strategic Health Authority
Cameron Stark, Consultant in Public Health, NHS Highland
Robin Stott, vice chair Medact
Jeremy Wight, Director of Public Health, North Sheffield Primary Care Trust
Ewan Wilkinson, Consultant in Public Health, Liverpool Primary Care Trusts