This page is an update (27 02 18) on the application for a Judicial Review of the
existing UK Climate Commitments & Carbon Reduction Target, initiated by Plan B Earth
Supported by poetic readings and music in solidarity with the plaintiff's demand,
please do join us at the return of . . .

Plan B Earth to: -

arguing further for


*************************************************************************
Despite the increasingly obvious climate emergency (see record-breaking Arctic melt rates), Her Majesty's Government (HMG)
continues to refuse to make the UK's carbon reduction target consistent with the Paris Climate Agreement to which the UK is a signatory.

However, Plan B Earth can now note that in evidence: -
while the Government's Climate Change Committee (CCC) claimed that they advised HMG that revision is 'feasible';

HMG claimed that the CCC advised them it was 'not feasible';

i.e. the evidence to the RCJ from the defendants (HMG & its CCC) is fundamentally contradictory.



Consequently, Plan B Earth can now point out that: -

this

is neither a logical nor a legal basis for decision-taking on any scale,

while empahsizing that

this is also certainly not an adequate defence of HMG's refusal to revise its CO2 reduction target

and

this also completely validates the need for the Judicial Review of this, as demanded by the plaintiffs.
*************************************************************************
Update 20 03 2018

We are all very happy to welcome Jim Hansen and his support for this action by Plan B



Transcript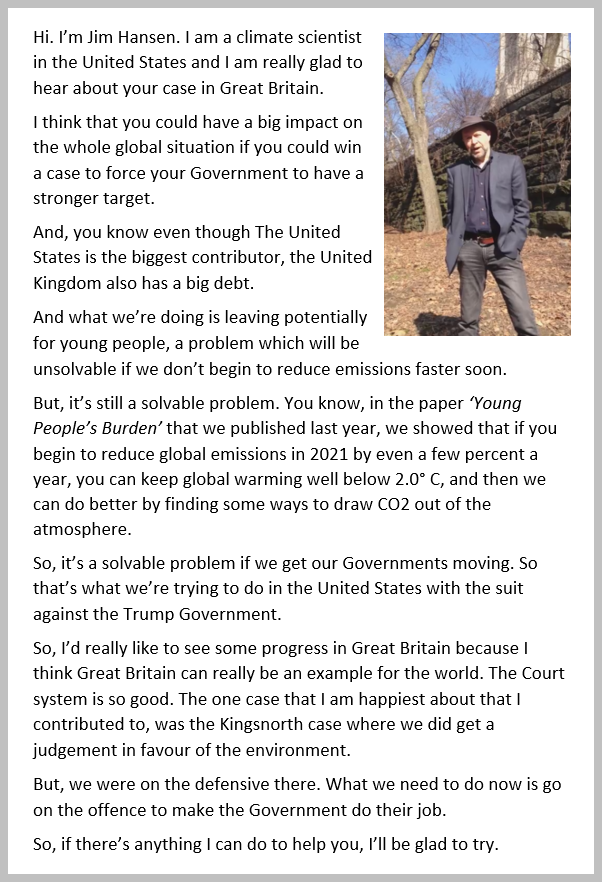 *************************************************************************

Secretary of State and Committee in disagreement Feb. 19, 2018 (From the Plan B website)
'There have been some surprising developments in our case. We have received written responses to our claim from both the Government and the advisory Committee on Climate Change. It turns out the Government's decision not to revise the 2050 target following the Paris Agreement was based on a misunderstanding.
The Secretary of State, Greg Clark, says his decision was based on advice from the Committee that greater ambition was not 'feasible'. Bizarrely, he claims that aligning the target to science and the Paris Agreement, might set a bad example to other countries, by encouraging them to set 'unrealistic' goals. According to this logic, targeting climate catastrophe is exactly what we should be doing!
Meanwhile the Committee has explained that it did not advise that a more ambitious 2050 target was unfeasible, and that greater ambition for 2050 is in fact perfectly possible.
We imagined that given this direct conflict between Government and Committee we would be granted 'permission' for a full hearing 'on the papers' (i.e. without us even needing to go to Court). But that hasn't happened. So we now need to renew our application for permission with an oral application to the Court. Bindmans (our solicitors) estimate we may have a hearing in 6 weeks. We urgently need your help in reaching our stretch target of £65,000.
We are confident that permission will ultimately be granted. Simply by bringing the case, and forcing the Government to explain its position, we have unearthed that its decision not to revise the 2050 target was based on a simple mistake. Once the penny drops for the Court that that is what happened, it's going to be hard for them to say there's no need for a full review. "So what if the UK's plans for tackling the greatest threat facing humanity are based on a misunderstanding of its Committee's advice? Move on! Don't dwell on it!"
There are no guarantees in Court. But it would be surprising if that's the conclusion they reach; and if they do we'll appeal them all the way!'
*************************************************************************
Statement from Aubrey Meyer for the 20th of March - the returning of light and life on the Spring Equinox.


*************************************************************************
All Country CREDIT DEBIT (1750-2020)