Dear Aubrey,
Thanks as ever for your unremitting efforts
Back to UNFCCC Submission Back to Signatory List
I will with pleasure be a co-signatory.
Lets hope sense will prevail, and we can get some forward movement.
Best wishes
Robin



SPOTLIGHT: CLIMATE CHANGE
The most feasible present framework that embraces these principles is contraction and convergence (C&C). C&C is based on the science of limits and the logic of global rights. The global total of permitted emissions is calculated so as to achieve the objective of limiting and stabilising atmospheric carbon concentrations below the level beyond which runaway climate change becomes unavoidable (presently thought to be about 400 parts per million). This calculated amount of carbon (the global carbon budget) provides the quantum from which an inclusive, global, equal rights per capita entitlement of carbon is derived; an entitlement that will go to each adult. Emissions trading can then take place within the context of this scientifically calculated carbon budget and the rights based mechanism for distribution.

The implementation of a framework founded on these principles will require tough negotiation, particularly around the speed of convergence to an equal per capita entitlement of carbon dioxide emissions, which can be no more than one and a half tonnes per person by 2050 (assuming a global population of 9 billion). Calculation of the initial carbon budget takes account of the present capacity of the global sinks: the oceans, soils, forests, and other flora that absorb CO2. If these sinks diminish, C&C enables the necessary recalculation; the contraction and convergence framework has the capacity to be modified in relation to evolving risks.

How will C&C work?
The equal per capita entitlement of carbon emissions can be pre-distributed as carbon coupons to consumers who could then negotiate the sale of these coupons. Under-consumers (generally the poor) will have coupons to sell to over-consumers (generally the rich). Market forces will work for the poor as well as to reduce carbon emissions; a key feature of the scheme. Putting the poor in control is a crucial development goal, as evidenced by the recent moves by donor agencies such as the International Red Cross to simply give cash to the poor. Recent publications testify to the efficacy of this approach. Equal entitlement under C&C has the added advantage that, in the early stages of the implementation of the framework, rapidly industrialising countries such as China, India, and Brazil (which are still relatively low per capita emitters of carbon) will be beneficiaries.

Credits (entitlements) will be issued by the global institution that oversees global sustainable development and agrees and implements C&C. C&C envisages that a greater portion of these entitlements are delivered to individuals or small collectives. This commitment can be written into the global agreements. So also can the proportion of the entitlements that would be held by the country level group to cover communal facilities such as schools and hospitals. For instance, in the UK, the proportion of carbon emitted by collective rather than individual actions is around 40%, an indication of the proportion of entitlements that the UK would hold centrally.

The widespread uptake of microcredit and the penetration of electronic communication, especially mobile phone technology, provides a route for implementing C&C in poorer countries. And although C&C encourages low carbon solutions, it does not seek to define those solutions for any particular group. The agency of individuals and communities to use resources as they think best makes C&C nonintrusive and is one of the socially attractive properties of the scheme.

No other framework quantifies allowable carbon emissions against an atmospheric CO2 concentration. No other framework allocates entitlements of this amount in a way which is to the advantage of underprivileged people in both the countries that are yet to industrialise and the rapidly industrialising countries. These unique features account for the significant level of global support for C&C, support which will be essential to getting the framework implemented. During the implementation of C&C, a period of no more than a few years, a low carbon development fund of at least $150bn must immediately be established. Much of the money could be raised by a tax on airline tickets and imposition of a $5 tax on each of the 20 billion barrels of oil used by OECD countries each year, or through the introduction of a financial transaction tax as advocated by Nobel prize winning economist James Tobin.

Time is of the essence. This is well understood by health professionals. After any serious trauma, a patient's chances of recovery are much greater if treatment is started within one hour of the event: the so called golden hour. Our traumatised globe is nearing the end of its golden hour. For the sake of present and future generations, we have to move quickly for our interventions to successfully heal the globe. An agreement to implement C&C cannot be delayed.
Robin Stott - Contraction & convergence:
the best possible solution to the twin problems of climate change and inequity.



Over the past 20 years the view that human activity is disturbing the normal cycles of climate change has become widely supported by scientists. Fossil fuel burning has amplified changes in greenhouse gasses so that whereas levels of Carbon Dioxide have been below 300 parts per million over the past million years, they are now 380 ppm and rising rapidly. We doctors have explored and documented the likely health consequences of these changes. These are both direct, as in the extension of vector borne diseases associated with warming climates, and indirect, through for example crop failure due to changing weather patterns. The potential for a devastating impact on the health of all peoples is now clear, and if that was the end of the story, we would have reason to be despairing. Fortunately, there is another narrative, a narrative which gives us reason for optimism and a basis for effective action. Tackling climate change by radically reducing global fossil fuel use, but doing this in a way which enables poor countries to have headroom for development, will be of major benefit to health. This health promoting framework for tackling climate change is called Contraction and Convergence - reducing the global carbon emissions, and dividing the residual carbon into equal entitlements for all adults. The consequence for health in our own country will be a phased increase in exercise, improving air quality, the greening of public spaces, and an improving diet with a decrease in meat consumption. When we consider that the majority of chronic disease is due to lack of exercise, inappropriate diets and poor air quality, this essential measure to tackle climate change transforms into an essential measure for tackling chronic disease. More widely the equal entitlement of carbon means that whilst we in the rich countries have to radically reduce our use of fossil fuels, those in poor countries have opportunities to sell some of their entitlement to us, and to use the rest to transform their societies. So 'Whats good for climate change is good for health." Through tackling climate change in this fair shares way we deliver benefits to our individual patients and to many others around the globe. The Climate and Health Council, which I co-chair, and of which Tim Ballard is a member, asks you to join us in ensuring that this transformative view of climate change is taken seriously in all negotiations. Go to our website, which suggests a range of actions you can take. In particular we ask you to sign our pledge. 6000 health professionals from many countries have already signed, and by adding your name we will get increasing evidence of our commitment to tackle climate change. We can use this evidence to give our negotiators the courage and space to make the appropriate decisions both nationally and internationally.
Robin Stott - Co-chair, Climate and Health Council
Contraction and convergence
Royal College of General Practitioners
Dr Robin Stott on Contraction and Convergence
"A science-based framework that makes sense".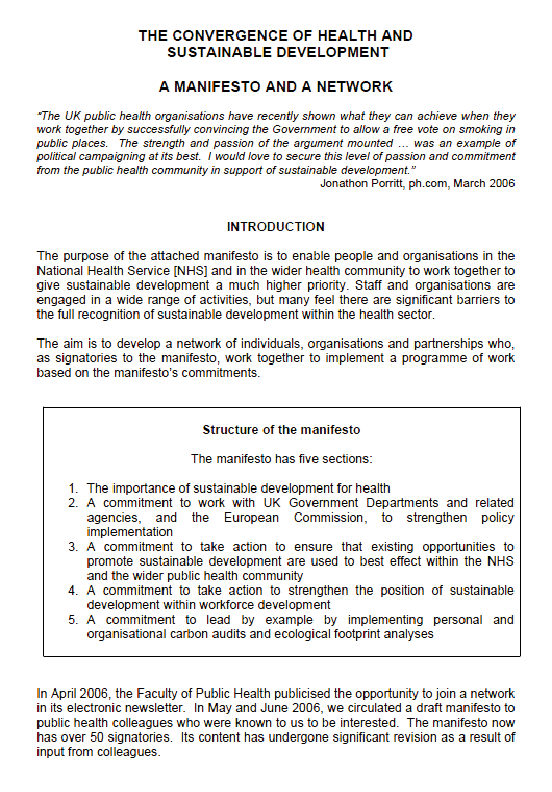 Action to reduce substantially carbon emissions in a way that is fair and equitable for all countries around the globe see Global Commons Institute's policy of Contraction and Convergence, which is a carbon cap and trade policy designed to reduce CO2 emissions.
THE CONVERGENCE OF HEALTH AND SUSTAINABLE DEVELOPMENT
A MANIFESTO AND A NETWORK
SIGNATORIES
Faculty of Public Health of the Royal Colleges of Physicians of the United Kingdom
Scottish Environmental Protection Agency
UK Public Health Association
Sheila Adam, Interim Regional Director of Public Health, NHS London
Edwina Affie, Public Health Consultant
John Ashton, title to be confirmed
Ian Baker, Hon. Reader in Public Health, University of Bristol
Geoff Barnes, Health Policy Adviser, Sustainable Development Commission
Ian Basnett, Assistant Director of Public Health, North East London Strategic Health Authority
Chris Bentley, Director of Public Health & Clinical Engagement, South Yorkshire Strategic Health Authority
Graham Bickler, Regional Director , South East Health Protection Agency
Chris Birt, Consultant / Honorary Senior Lecturer in Public Health, Central Liverpool PCT
Leslie Boydell, Consultant in Public Health Medicine, Institute of Public Health in Ireland
Nick Cavill, Cavill Associates
Sir Ken Collins, Chairman, Scottish Environment Protection Agency
Anna Coote, Public health specialist
Fiona Crawford, Public Health Programme Manager, Glasgow Centre for Population Health
Andrew Furber, Honorary Senior Clinical Lecturer/ Consultant in Public Health Medicine, South East Sheffield PCT
Campbell Gemmell, Chief Executive, Scottish Environment Protection Agency
Mike Gill, Visiting Professor in Public Health, University of Surrey
Sir Muir Gray, Director of Clinical Knowledge, Process and Safety, NHS Connecting for Health
Jenny Griffiths, independent consultant
Rod Griffiths, President, Faculty of Public Health
Siân Griffiths, Director, School of Public Health, The Chinese University of Hong Kong
Sir Andy Haines, Professor, London School of Hygiene and Tropical Medicine
Neil Hamlet, Consultant in Public Health Medicine, NHS Fife
John Harvey, Director of Public Health, Havering PCT
Tony Hedley, Chair Professor in Community Medicine, Department of Community Medicine, School of Public Health, The University of Hong Kong
Alison Hill, Director, South East Public Health Observatory
Linda Hillman, Consultant in Public Health and Dental Public Health, Norfolk Public Health Network.
Phil Insall, Director, Active Travel, Sustrans
Lizi Irvine, Senior Lecturer, Napier University, Edinburgh
Julie Hotchkiss, Director of Public Health, Ashton,Leigh & Wigan Primary Care Trust
Richard Jarvis, Consultant in Health Protection, Cheshire & Merseyside
Jack Jeffery, Immediate Past Chairman of the Royal Institute of Public Health and Director, Durham County Waste Management Ltd.
Alyson Learmonth, Director of Public Health and Health Improvement, Sedgefield PCT
Giovanni Leonardi, Consultant in Environmental Epidemiology, Health Protection Agency, Centre for Radiation, Chemical, and Environmental Hazards
Carolyn Lester, Lead for Health Inequalities & Equity, National Public Health Service for Wales
Ann McCarthy, Senior Lecturer, Division of Criminology, Public Health & Policy Studies, School of Social Sciences, The Nottingham Trent University
John Middleton, Director of Public Health, Sandwell
David Miles, Director of Public Health, West of Cornwall Primary Care Trust
Ruairidh Milne, Clinical Senior Lecturer, School of Medicine, University of Southampton
George Morris, Professor, Senior Medical Officer, Scottish Executive,
Maggi Morris Director of Public Health, Preston Primary Care Trust
Aldo Mussi, Snr Lecturer in Health Development, Faculty of Health, University of Central England
David Ogilvie, MRC fellow, MRC Social and Public Health Sciences Unit, Glasgow
Lindley Owen, Director, Mobilise! Project, Manager Sustrans Cornwall & Plymouth
David Pencheon, Director, Eastern Region Public Health Observatory
Cathy Read, Consultant in Public Health Medicine, Barnsley Primary Care Trust
Paul Redgrave, Director of Public Health, Barnsley Primary Care Trust
Sue Roaf, Councillor Professor, Oxford Brookes University
Ian Roberts, Professor of Epidemiology and Public Health, London School of Hygiene and Tropical Medicine
Helen Ross, Public Health Development Manager, Greater Nottingham Health and Environment Partnership,
Harry Rutter, Deputy Director, South East Public Health Observatory
Paul Scourfield, Chief Executive, Faculty of Public Heatlh


CONTRACTION AND CONVERGENCE An exemplary global framework
'Contraction and Convergence' is a strategy aimed at capping and then reducing carbon dioxide emissions (contraction) and by giving an equal entitlement of the capped carbon to every adult, ensuring that all get fair shares of this capped global carbon allocation (convergence).
Climate change, poverty and war Robin Stott
JOURNAL OF THE ROYAL SOCIETY OF MEDICINE Volume 100 September 2007

Jackie Spiby, Consultant in Public Health, North East London Strategic Health Authority
Cameron Stark, Consultant in Public Health, NHS Highland
Robin Stott, vice chair Medact
Jeremy Wight, Director of Public Health, North Sheffield Primary Care Trust
Ewan Wilkinson, Consultant in Public Health, Liverpool Primary Care Trusts