Hi Aubrey
Yes, you may list me as a supporter.
Professor Amy Sinden


Temple University Beasley School of Law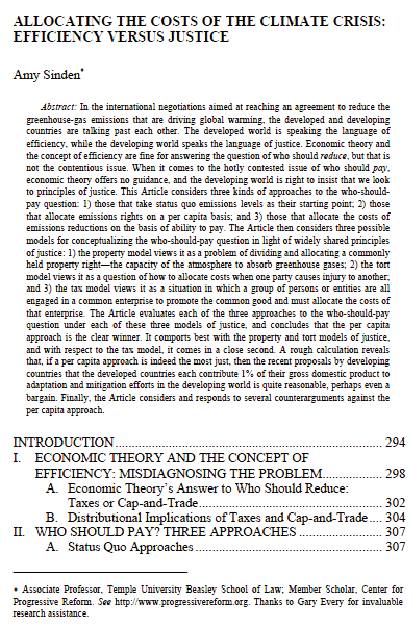 During the transition or "contraction" phase, developed countries would be allowed to emit significantly more greenhouse gases than their equal per capita share of emissions and would not be penalized for those excess emissions by having to buy allowances as they woould have to do under a prospective-equal-shares approach.
In contrast, a prospective-equal-shares approach would distribute costs on the basis of equal shares immediately by allocating allowances on a per capita basis from the outset. This would allow the developed world to transition, not by letting them off the hook for their share of costs initially, but by allowing them to buy the right to continue releasing emissions in excess of their per capita equal share.
Thus, by delaying an equal-shares allocation of costs for several decades, contraction and convergence would result in a much smaller transfer of money from the developed to the developing world than would a prospective-equal-shares approach.
ALLOCATING THE COSTS OF THE CLIMATE CRISIS: EFFICIENCY VERSUS JUSTICE
Amy Sinden - Washington Law Review