Dear Aubrey,
I support this proposal
Julian
Professor Julian Agyeman Ph.D. FRSA,
Chair, Department of Urban + Environmental Policy + Planning (UEP),
Tufts University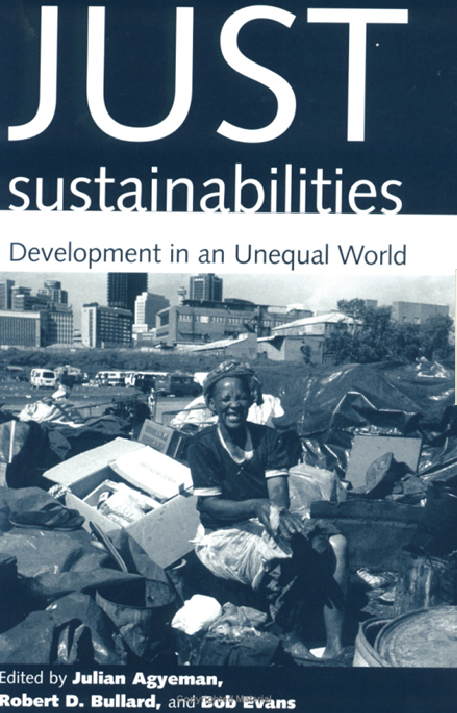 An equitable alternative would be to allocate consumption or pollution rights according to population, or in accordance with a planned transition to equal consumption. An example of this for fossil fuel use is the Contraction and Convergence scenario.
Just Sustainabilities: Development in an Unequal World (Urban and Industrial Environments)
Julian Agyeman

Welcome to my Tufts webpages.
I'm an environmental social scientist with degrees in botany, geography, conservation policy and environmental education whose expertise and current research interests are in four broad areas, each of which critically explores some aspect(s) of the complex and embedded relations between humans and the environment, whether mediated by institutions or social movement organizations, and the effects of this on public policy and planning processes and outcomes, particularly in relation to notions of justice and equity.
The areas are:
the nexus between the concepts of environmental justice and sustainability and, specifically, the possibility of a 'just sustainability';
the potential of the concept of 'spatial justice' to contribute to 'just sustainability';
the potential in emerging discourses around 'food justice/sovereignty' to contribute to discourses around 'just sustainability';
the concepts of interculturalism, cultural competency, culturally inclusive practice and culturally inclusive spaces in urban planning.
Just sustainability is more more accurately described as just sustainabilities because the singular form suggests there is one prescription for sustainability that can be universalized. The plural however acknowledges the relative, place and culturally bound nature of the concept. Just sustainabilities is the integration of social/spatial justice and sustainability and is "the need to ensure a better quality of life for all, now and into the future, in a just and equitable manner, whilst living within the limits of supporting ecosystems".
I was co-founder in 1988, and chair until 1994, of the Black Environment Network (BEN), the first environmental justice-based organization of its kind in Britain. I was co-founder in 1996, and am co-editor of Local Environment: The International Journal of Justice and Sustainability and was elected to the Fellowship of the Royal Society of the Arts (FRSA) in the same year.
I am Series Editor of Just Sustainabilities: Policy, Planning and Practice an exciting new Series to be published by Zed Books. I am also Contributing Editor to Environment: Science and Policy for Sustainable Development and a member of the editorial boards of Environmental Communication: A Journal of Nature and Culture , Sustainability: Science, Practice and Policy, and the Australian Journal of Environmental Education. In addition, I am Visiting Professor at Northumbria University, Newcastle-on-Tyne, UK, and at the Hawke Research Institute, University of South Australia, Adelaide.
My publications, which number over 150, include books, peer reviewed articles, book chapters, published conference presentations, published reports, book reviews, newspaper articles, Op-Eds and articles in professional magazines and journals.
To keep up with my latest ideas, thoughts and speaking engagements, visit my Blog 'Just sustainabilities: Re-imagining (e)quality, living within limits' and my Twitter site by clicking on the buttons on the upper right corner of this page. To involve me in potential consulting projects, please visit Urban (E)quality Catalysts, my new consulting group whose aim is to advance just sustainability across diverse urban communities, helping to ensure both environmental quality and human equality in civic planning, policy, and practice.
Professor Julian Agyeman Ph.D. FRSA,
Chair, Department of Urban + Environmental Policy + Planning (UEP),
Tufts University,
97 Talbot Avenue,
Medford MA 02155.
USA.