A story of now completely indefensible irresponsibility.
Non Government vacillation lies behind more Climate Chaos and Confusion, while the UNFCCC's call
for 'increased ambition' just attracts more of the Government Incrementalism that adds up to disaster.
The Bottom Line is that: - "C&C is still the most rational, sensible and widely accepted proposal in the UNFCCC process."
Hielkema and Hampton and numerous others and here.
However, after a decade of NGOs seeking to 'improve on C&C' since COP-6 in 2000, 'EcoEquity's Greenhouse Development Rights Framework [GDR] Proposal was put out by the Stockholm Environment Institute in 2008 and supported by Environment and Development NGOs for this very purpose.
The 'improvement' was to call for 'negative-emissions-entitlements' for Developed Countries, rather than C&C with 'accelerated convergence' as argued and advocated by GCI for nearly two decades.
For this 'improvement' to work politically, we all would need to secure the agreement of the US Senate and its international allies to agree this. The US would not even agree to the Kyoto Protocol, so the GDR idea while intensifying the blame-game and so perhaps appealing to some Developing Countries, in reality simply inflames an existing disagreement.
C&C on the other hand, has always taken the line that we should all turn the problem of the past into everyone's solution for the future, with 'the rate of convergence being the main equity lever' in the neogtiations. In other words with that lever, C&C is a mechanism for UNFCCC negotiators to achieve a compromise while demonstrating UNFCCC-compliance where the two sides haggle with each other rather and come to terms, rather than simltaneously demanding unconditional surrender by the other side..

There has been significant acceptance of that model by many parties on both sides to that debate [here and see below].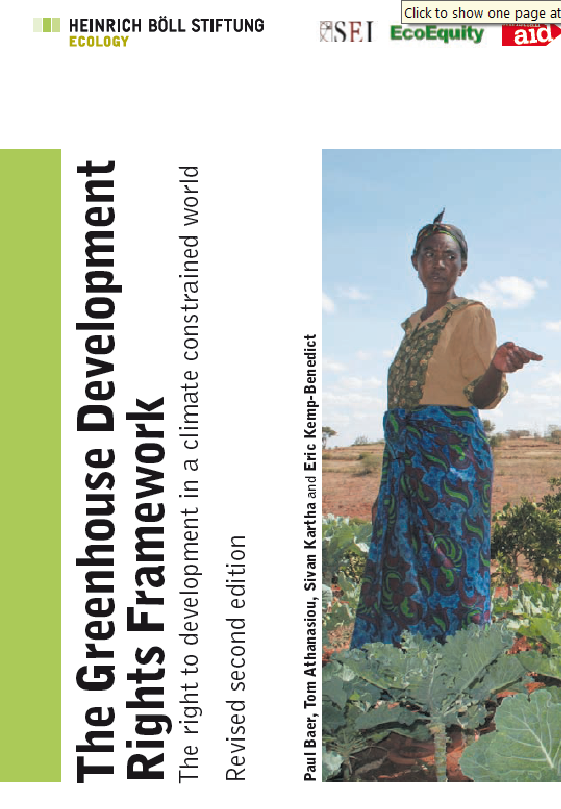 In the Greenhouse Development Rights Framework [GDR] its authors say: -
"Per-capita approaches are strongly identified with the "Contraction and Convergence" approach. This is as it should be, for C&C was the first real "equity reference framework," and as such, it has done a great deal to publicly establish the need for just, global effort-sharing as an essential aspect of an emergency climate stabilization program. It has acquired, and deserves, a great deal of respect and support, indeed, we used to be C&C supporters ourselves."
However, then returning to the 'blame-game' with a programme to compensate for the alleged 'equity short-comings' of C&C - Nicholas Stern had taken to calling C&C "a spectacularly weak form of equity." Stern has now denounced his own report [Davos 2013] saying the climate problem is far far worse than he originally said.
GDR authors meanwhile, have argued unrealistically for negative-emissions-allocations for 'rich countries' as follows: -
"By 2030, the mitigation obligations of the Rich Countries of the North will typically come to exceed even their total domestic emissions! Which is to say that wealthier and higher-emitting countries would be given 'negative allocations', as is necessary in order to open enough atmospheric space for the developing world."
These 'negative-emissions-allocations' are demonstrated in the GDR graphic [here by 2025].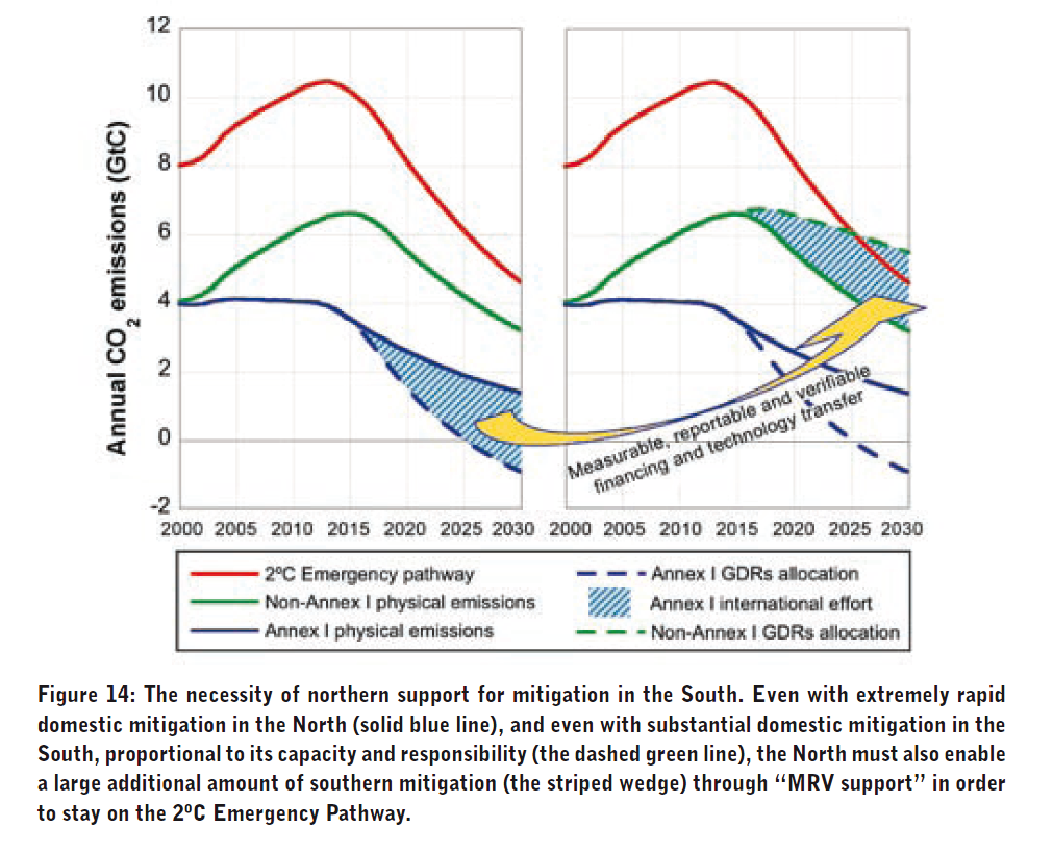 The technical effect of arguing like this is simply that all calculations are immediately returned to mixture of contestable ideological assumptions and contestable economic computations.
At a stroke, negative-emissions-entittlements alone obviously makes UNFCCC-compliance impossible to compute and political agreement impossible to reach. Moreover, though the agreement of the US Senate to GDR seems fundamental to its general acceptance, its authors have declined to respond to questions about whether their proposal has any support at all on Capitol Hill.
However, even this divisive argument was again exceeded by the same Sir Nicholas Stern as a weak form of equity, since this time he argued [to camera] at COP-14 that for 'ethical reasons' these negative entitlements to the rich countries should be immediate. The inflammatory effect of this was conspicuous, not least because Stern was a member of the UK Government delegation at the time who were going to try and get agreement at COP-15 for convergence to equal shares by 2050. In his yo-yo relationship with C&C, Stern at one point declared it "a pragmatic principle of equity" and at another [and rather eccentrically] he denounced C&C as being like "rights-to-kill."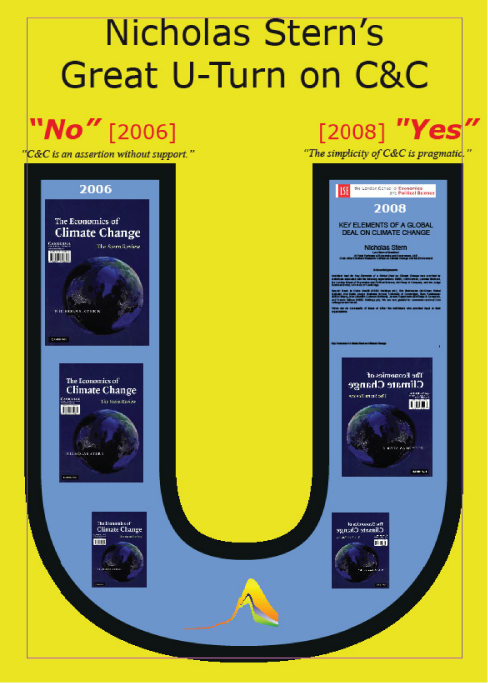 However, in their report the GDR Authors also made a point of saying: -
"Incidentally, this kind of negative allocation can never arise under Contraction and Convergence style trajectories, wherein high-emitting countries are only required to transition from their high grandfathered allocations down toward the global per-capita average.


Greenhouse Development Rights, it should be said, evolved from Contraction and Convergence, the most well-known of the per-capita rights approaches."
The first point is not strictly accurate. If instructed, C&C will calculate a contraction-event that will go negative by a given date. But that is unitary and means that all entitlements go negative at that point.

The second point is accurate, but GDR is arbitrary and binary and requires the splitting of the model into two opposing camps where one is told to 'go emissions negative' to make room for the other to 'go yet more emissions positive'.
At publication of the GDR report, after years of indecision by the Environment NGOs of the Climate Action Network, who had consistently refused to support C&C since its introduction in 1996, and after the arrival of the newer and vaster Stamp out Poverty coalition of Dvelopment NGOs with members like OXFAM & TearFund, together they all threw their collective weight behind GDRs. Their claim was that this approach was the improvement to C&C that they collectively deemed necessary. With a lot of money between them, they set out to trash C&C and campaign for the GDR proposals.

Soon came the OXFAM/NEF Report 'Assessing the Alternatives'

In fact, latching on to this issue, the high-minded Lords-of-Aid actually realized that they had never had it so good. OXFAM et al dispose of around $1,000,000,000/year promoting this kind of material while drawing - from charitably extracted income - salaries for their CEOs at 100s of thousands of pounds a year while using vast armies of volunteers for 'their mission'. They certainly don't have the income-policy restraint of an Aid Organisation like 'Islamic Relief' for example. The double-standard, not to say the irony, is conspicuous: -
"It is essential that decisions on climate change financing be made on a fair and equitable basis, using clear principles, and that national contributions should vary to reflect responsibility and capacity to pay. One of the recognised systems by which to assess which developed countries ought to shoulder what proportion of financial responsibility, in respect of both mitigation and adaptation, is the Greenhouse Development Rights (GDR) framework. Fundamental to the GDR approach is firstly the need for emergency measures to reduce global carbon emissions rapidly to avoid global temperature rise of 2°C; and secondly the overriding need for poverty reduction in developing countries."
That 'Development' NGO's have taken some of 'Climate-Action' NGOs into this army of GDR advocacy is continuing evidence of just how divisive and dysfunctional their overall performance at the UNFCCC for over 20 years has now become. They started out at the Second World Climate Conference in 1990, calling all the industrialised country Heads of State 'Climate Criminals'. Now, the idea was that the US Senate will agree in front of all the world to ratify an agreement for negative-emissions-allocations for the US while India and China bank that as credit. This has been a rhetorical road now leading the dysfunctional into the delusional.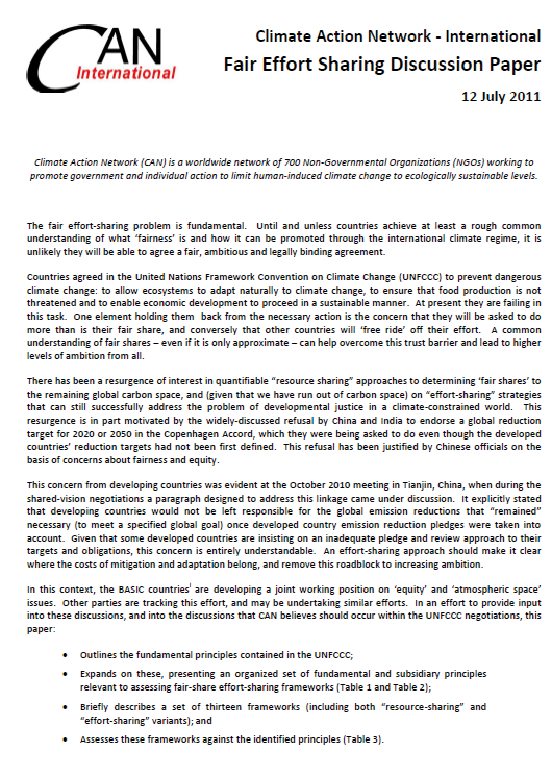 In 2011 the Climate Action Network International [CANI] published an assessment report effectively promoting GDRs' dismissed C&C as irrelevant.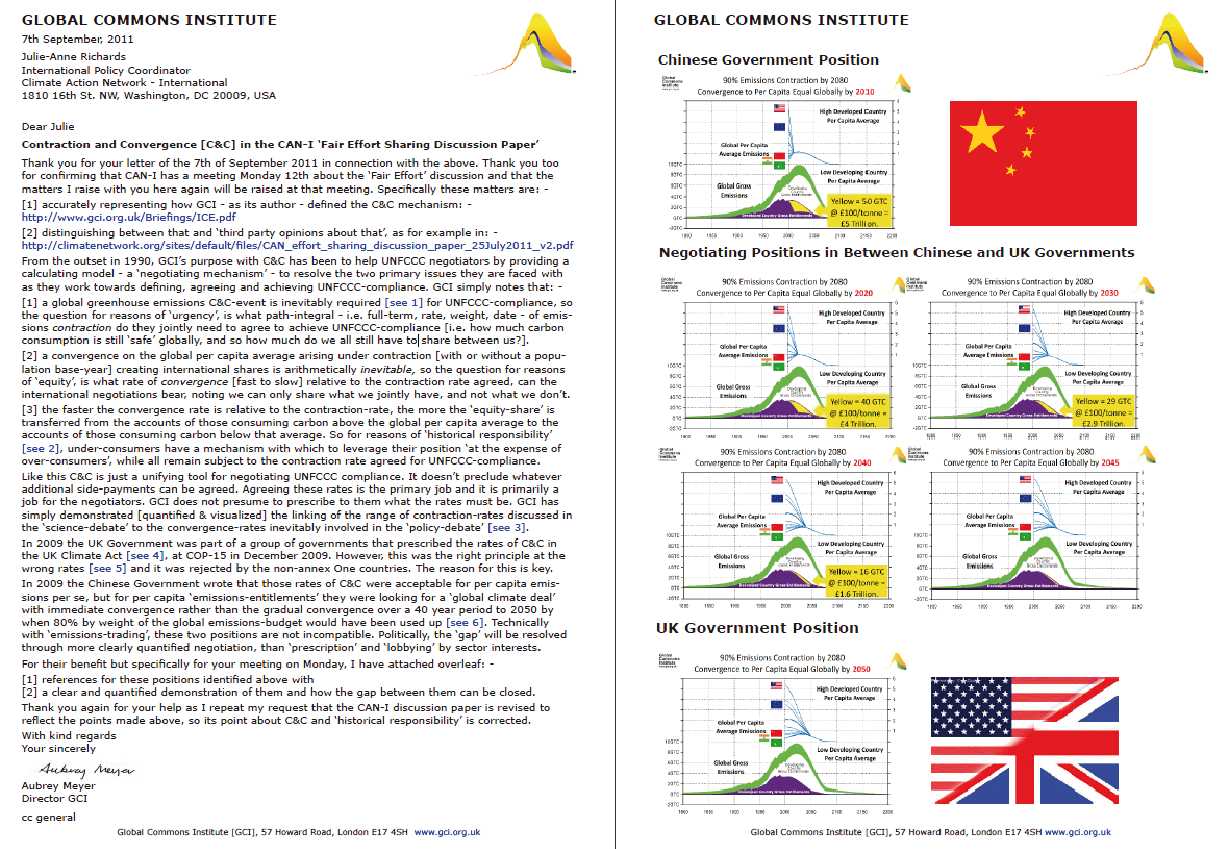 GCI wrote to CANI seeking a correction of the factual errors in the report about C&C. CANI wrote back to say that the authors of GDR Report were the authors of the CANI Report and that CANI had instructed them to respond.
They did, only to say that they were too busy to respond.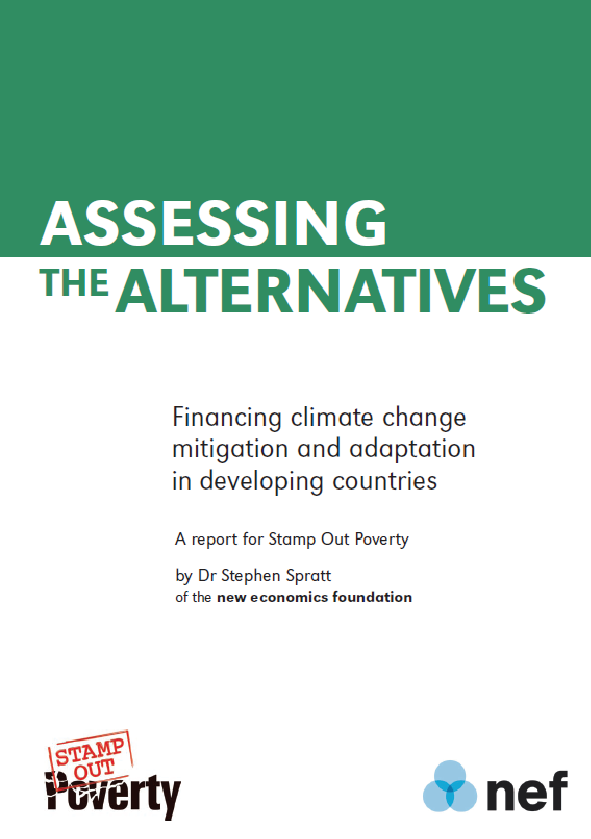 Just before this, the New Economics Foundation [NEF] produced this full Report for Stamp Out Poverty [SOP] in collaboration with Stephen Spratt of SPRU. Called Assessing The Alternatives NEF's report makes three comments about Contraction and Convergence [C&C].
It said: -
"C&C is clearly dynamic in nature, moving from the status quo to what could be considered an equitable international allocation;
However, the proposal does not stipulate the speed with which this process should take place;
which is clearly the central question to be answered."
Points [1] and [3] are correct. Comment [2] however, which as the report says, "is clearly the central question", is completely incorrect and is completely contrary to the record.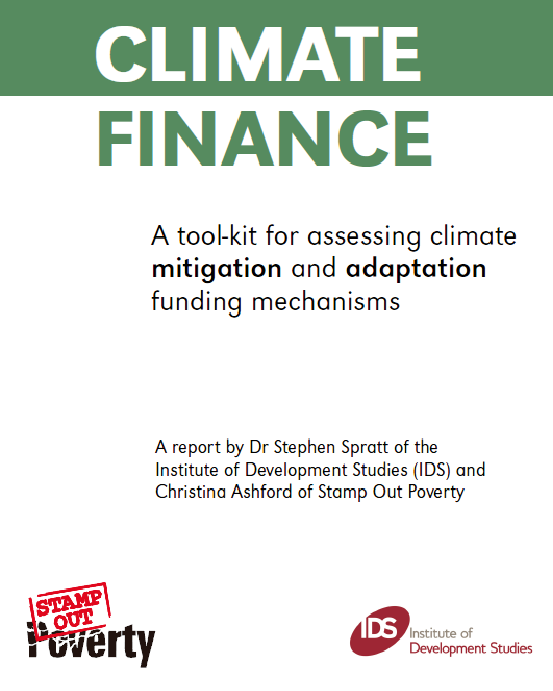 GCI emphatically rebutted this alleged 'failure to deal with the rates of C&C' with this extenisve evidence [a record of twenty years trying to do just that - answer the question of the rates of C&C needed].
The authors of the report eventually accepted this in the [revised] document now called Climate Finance Report with NEF ommitted from co-authorship. However, this revision apparently ceased to regard those questions as central, as they were no longer even worthy of mention.
"The 'Contraction & Convergence' proposal, developed by the Global Commons Institute (GCI) here an overall budget is set and allocations are 'grandfathered' within this to nations on the basis of current emissions. However 'contraction' refers to the progressive reductions in the overall global 'budget', while 'convergence' describes the process where allocations move from allocations based on current emissions to those based on an equal per capita share of emission rights. Unlike Cap & Share, however, these remain at the level of the nation state which then has to determine how the national 'budget' is allocated within their own borders rather than with the individual citizen. Contraction and Convergence is clearly dynamic in nature, moving from the status quo to what could be considered an equitable international allocation. Over the last twenty years, in an effort to help negotiators at the UNFCCC on how they might agree an effective and equal global deal, GCI has developed detailed proposals for contraction and convergence rates."
Climate Finance IDS & Stamp Out Poverty

Added to this came the NGO concerted and constructive dismissal of C&C to the Esmee Fairbairn Foundation [rebutted here] when GCI applied to for support in 2011 supported by the very substantial recommendations included here
[EFF had once - and once only in 23 years - 'supported' C&C by making an award to GCI in 2008 in recognition of the achievement of establishing C&C over the previous 20 years].
Now GCI was essentially told to throw in the towel and join with the NGO advocacy of GDRs.


Capital Research Centre
At the same time, in 2009 this assessment of the 350 campaign and GDRs was published by the Capital Research Centre. Remember, the 350 campaign apparently also supported this GDR approach as well [i.e. negative entitlements to rich countries].
"If Al Gore is the 'face' of global warming alarmism, Hansen is the 'science' behind it. But while he trades on his scientific reputation, Hansen appears more interested in using environmental alarmism to overhaul the U.S. economic system. He said the CEOs of fossil fuel companies, "should be tried for high crimes against humanity and nature."

SEI is well-placed to influence environmental and economic policymakers. Even if its framework for Greenhouse Development Rights is never enacted, the notion that the rich should pay to help the poor develop with costly clean energy will become accepted more and more into the mainstream of political discourse."
If anything, this was sensing the failure of GDR and sure enough in the recent [Feb 2012] submissions to the UNFCC regarding 'raised levels of ambition' the climate action NGOS have completely abandoned all reference to the GDR proposals and negative emissions allocations and OXFAM and Stamp Out Povery have not bothered to submit anything at all.
When you scrutinize the proposals in general, its clear that mere 'unstructured incrementalism' dominates all the proposals for so-called 'increased ambition.' For the time being it is still perceived as lucrative to game at the margins in this way.
However, in the light of this, the idea that we are going to achieve a return to 350 ppmv is obviously now completely lost. Moreover, the idea that we are even going to limit global temperature rise to no more than an overall 2 degree Celsius rise over pre-industrial increasingly now appears to be lost as well.
The blunt fact is that incrementalism adds up to disaster. The truth is that the same unresolved political row puts us all in the same North/South 'Mexican Stand-Off' that has dominated the process for the last twenty years. However, it is increasingly clear to people that this 'stand-off' is on a quicksand into which we are now all sinking as dangerous rates of climate change take hold, threatening runaway.
The Bottom Line is that: - "C&C is still the most rational, sensible and widely accepted proposal in the UNFCCC process."
Hielkema and Hampton and numerous others.



'Accelerated Convergence'
KEY MESSAGE to UNFCCC on negotiating Equitable Access to Global Commons Atmosphere

Regarding Decisions at COP-17 for 'increased ambition' equals 'accelerated convergence'. Negotiating UNFCCC-compliance globally, *Accelerating the rate of Convergence relative to the rate of Contraction* provides *the Main International Equity Lever.*"C&C has the virtue of simplicity. Equal per capita emissions is a natural focal point. Contestable computations based on economic variables do not need to enter the allocation formula."
Review of Climate Change Economics to the Australian Government by Ross Garnaut - 2008

"Since the principle of 'contraction and convergence' was first proposed by the Global Commons Institute in 2000, it has been widely embraced by some industrialised countries. Under contraction and convergence, each country will start out with emission entitlements equal to its current real emissions levels, and then, over time, converge to equal its per capita entitlements, while the overall global budget contracts to accommodate the emissions reduction objective. The convergence principle should be applied immediately rather than later as the 'converged point' in the future. 'Real emissions' is a different concept to 'emissions entitlement'. A country's high/low per capita real emissions cannot justify its high/low emission entitlements. In the process of convergence, the rights and interests of country B are really infringed by country A. In the National Emissions Account-based solution, the concept of convergence can still be incorporated, but it now merely means 'convergence of real emissions' rather than 'convergence of emission entitlements'. Each country's gaps between its emission entitlements and real emissions need to be balanced by the traded emissions quotas."
Development Research Council to the Chinese Government - 2009

"We believe that it is difficult to imagine a global deal which allows the developed countries to have emissions per capita which are significantly above a sustainable global average."
UK Government's 'Committee to the Climate Change Act'

KEY MESSAGE to UNFCCC on negotiating Equitable Access to Global Commons Atmosphere

Recently reiterated in this BASIC country-expert document.


Contraction and convergence
"Since the concept of contraction and convergence was first proposed by the Global Commons Institute in 2000, it has been widely embraced by some industrialised countries. Under contraction and convergence, each country will start out with emission entitlements equal to its current real emissions level, and then, over time, converge to equal its per capita entitlements, while the overall global budget contracts to accommodate the emissions reduction objective. The problem of convergence is that per capita allocation as a fair principle should be applied from T0, rather than as late as the converged point in the future (T2). 'Real emissions' is a different concept from 'emissions entitlement'. A country's high/low per capita real emissions cannot justify its high/low emission entitlements. In the process of convergence, the rights and interests of a country with low current real emissions are infringed by a country with high real emissions. In the budget account proposal, per capita emission entitlements of all countries are equal from the very start, and per capita real emissions of different countries do not have to converge in the future, as long as each country clears its budget accounts by the target year."
Equitable access to sustainable development - Contribution to the body of scientific knowledge
A paper by experts from BASIC countries: - Harald Winkler, T. Jayaraman, Jiahua Pan, Adriano Santhiago de Oliveira, Yongsheng Zhang, Girish Sant, Jose Domingos Gonzalez Miguez, Thapelo Letete, Andrew Marquard & Stefan Raubenheimer

For what its worth, the 2012 OECD Environmental Outlook to 2050 says:


"The scenarios all assume a burden sharing regime based on "Contraction and Convergence": global emissions contract over time according to the global pathway, and regional emission allowances (i.e. regional permit allocation) as a share of the global budget converge from shares in current emission levels to equal per-capita emissions by 2050 (see also simulation 2 below). Note that in the 450 Delayed Action scenario the burden sharing regime only applies after 2020."

The first mention of "Contraction and Convergence" in the first full paragraph of this page should include a footnote with the following text: - "Contraction and Convergence (C&C) is the science-based, global climate policy framework proposed to the UN since 1990 by the Global Commons Institute (GCI)": - http://www.gci.org.uk/briefings/ICE.pdf

OECD Environmental Outlook to 2050